(upcoming)October 2015 April Street at Various Small Fires, Los Angeles CA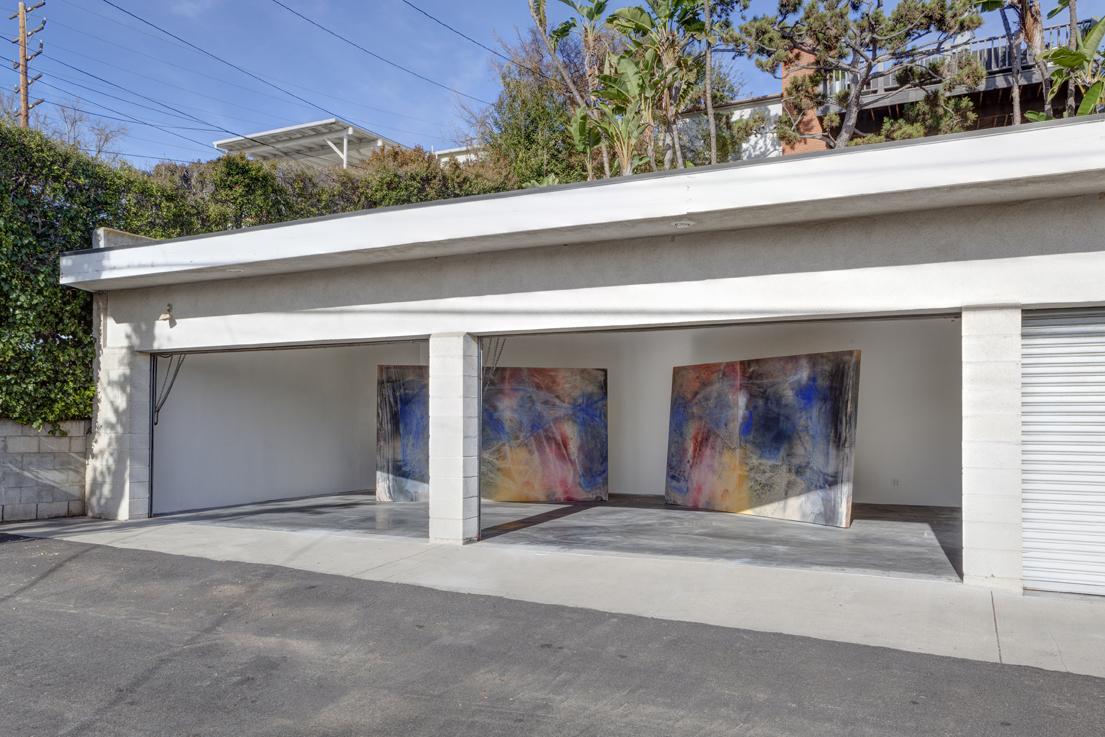 -----January 24 2015- March 12, 2015 Nothing Lasts Forever New project by April Street at Emma Gray's 5 Car Garage for images http://emmagrayhq.com/2014/now/april-street-january-march-2015
----- DECEMBER - 2014 "Remove Clothes " curated by René-Julien PRAZ
THE OPENING OF ART IS HOPE
ARTISTS RALLY AGAINST AIDES
c/o PIASA 118 rue du Faubourg Saint Honoré 75008 PARIS FR
-----October 4-November 22 2014 My Self is An Other Kendell Carter, Alexandra Grant, Rives Granade, Dennis Koch, April Street curated by Claressinka Anderson and Sonny Ruscha Granade at The Underground Museum 3508 W. Washington Blvd Los Angeles, CA
-----Left Coast: Recent Acquisitions of Contemporary Art - Santa Barbara Museum of Art
May 25 – September 14, 2014 --Opening reception May 31, 5pm-7pm
Since it opened its doors in 1941, the Santa Barbara Museum of Art has consistently been dedicated to collecting—an activity that has contributed to the growth of the permanent collection in significant ways. Art produced on the West Coast is a major part of this endeavor. Left Coast presents an overview of the Museum's collecting habits in contemporary art over the past five years, focusing most heavily on artists living and working in Southern California. Featuring a variety of media, including painting, photography, works on paper, and sculpture, many of the works in the exhibition are on view for the first time. Tying these works together is the pervasive sense of individuality demonstrated in each, adding weight to the justification of the delineation of this side of the country as not just the West Coast, but also, as it's commonly called, the "Left" Coast.
The exhibition is comprised of works from artists of both regional and international renown, such as Amy Adler, Uta Barth, Russell Crotty, Carlee Fernandez, Llyn Foulkes, Jack Goldstein, Lyle Ashton Harris, Richard Jackson, Kim Jones, Mike Kelley, Elad Lassry, Kori Newkirk, Steve Roden, April Street, Mario Ybarra Jr., and many others. We invite you to become acquainted with these works, which have recently joined the collection to ensure the continued relevance and significance of the Museum.
-----May 24 2014-July 5, 2014 April Street's Runner and Kelly Kleinstrodt's Murmelte Instrumente at Andrew Rafacz Gallery Chicago IL
-----April 5, 2014- May 22, 2014 Veils, a Group Exhibition at The Underground Museum 3508 West Washington Blvd. Los Angeles opening reception April 5, 2014 7pm-11pm
-----January 11, 2014 – February 15, 2014. A Vulgar Proof. April Street at Carter & Citizen, Los Angeles CA opening reception this Saturday January 11, 2014. 6-9pm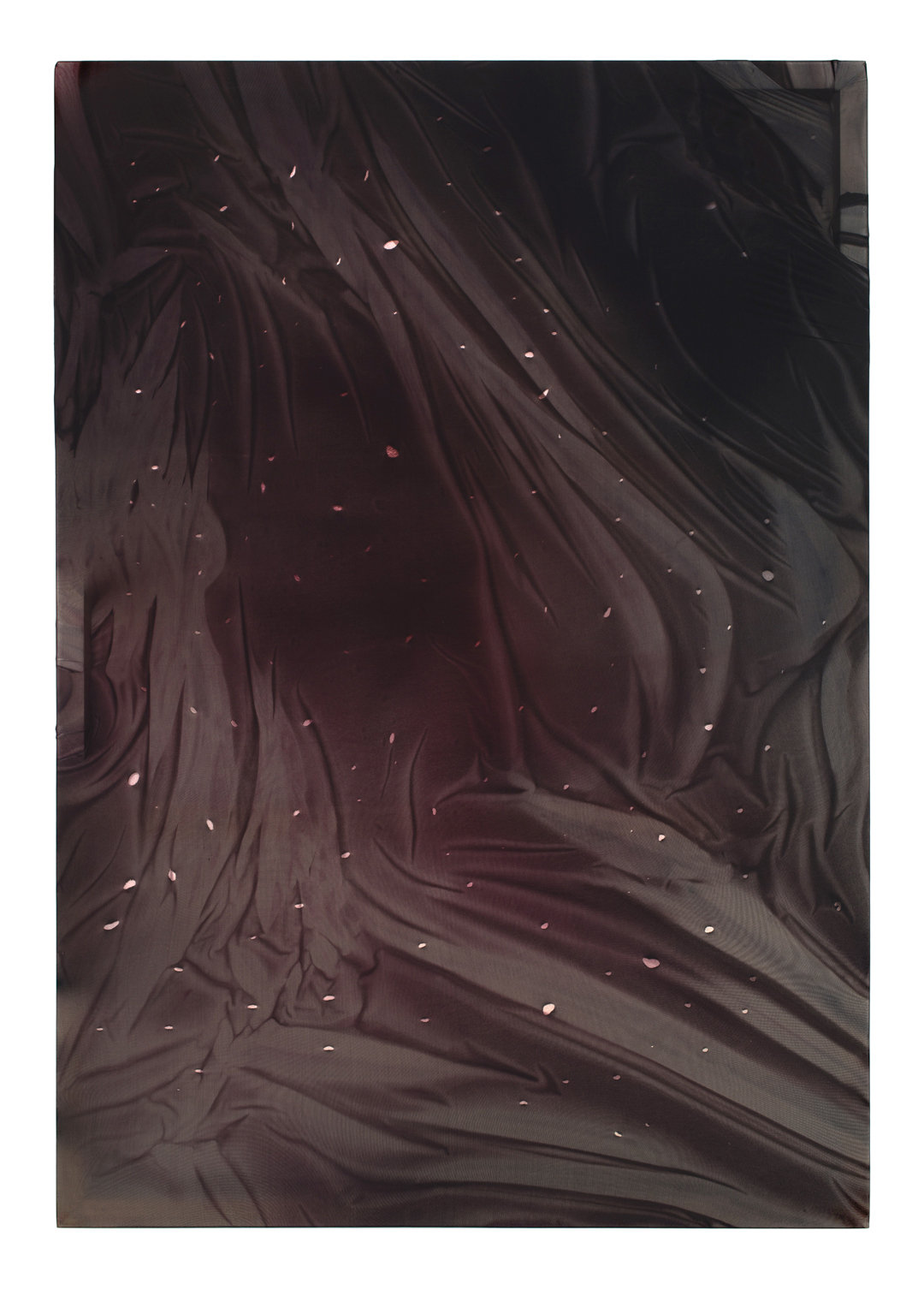 April Street / A Vulgar Proof
January 11 – February 15, 2014
Reception for the artist: Saturday, January 11, 6-9pm
Los Angeles, CA - Carter & Citizen is proud to present A Vulgar Proof, April Street?s second solo exhibition with the gallery. The exhibition opens January 11th and closes February 15, 2014. The gallery will host a reception for the artists on Saturday, January 11, from 6 to 9pm.
At first glance, the paintings and objects included in A Vulgar Proof, are like elements out of a science fiction novel. The black nylon paintings with puncture holes that cover layers of painted hosiery appear to be portraits of stars in a night sky. The Bronze Elizabethan collars protruding from the wall are like futuristic weapons, and a graceful floor-to-ceiling installation of 100 cast bronze birthday candles suspended by polished soap stones, bronze meat hooks and waxed silk seems like the curious device that holds the key to saving the hero's world at the end of that novel. Like Street's previous work, here there is a tension where things are not always what they seem. For this body of work Street punctures holes revealing the gestures' capability to adapt to and manipulate to our interpretation, folding the suspension of disbelief back on itself while opening up the surface of painting to reveal its inner workings.
The Black Hole Paintings are named after stars whose names have frequently appeared in fiction; they are fantastic, psychedelic time capsules holding clues to the history of painting and the personal movements of the artist. Each painting is wrapped in black nylon with holes cut or punched through revealing layers of painted hosiery. These hosiery layers are artifacts of a private performative act in which the artist wraps herself in hosiery material to enact a series of precise body positions (which she recorded while sleeping) into pools of acrylic paint on a canvas. The impression made by this act creates a positive and a negative and her mark making appears photographic. The negative on the hosiery is then reassembled onto stretchers and the artist considers them to be portraits of the paintings themselves. Street's gravitational configurations of painted hosiery inside black veils of nylon evoke ideas of masking, deception, sexuality, duration, and adaptation, but these objects of action also point to the act of peering through a camera's eye piece—cropping and editing out the unnecessary to get to the heart of being a maker.
The bronze Collars hinge on the ability of the same exact object to transform human interpretation with the slightest altering of a gesture. When tilted up at the height of the viewer, the collar acts as a stand in for the power of a leader when unaltered and flat the collar is clown- like. The installation, Carving 100 now 6 in my bed, with all of its tension and emotional bravado is a risky and tenuous sculpture that points to the duration of painting. The soapstone rocks that hold 100 bronze candles have a history of form and function; they were once used to carve jewelry and weapons by the Cherokee Indians in the Appalachian Mountains where the artist grew up.
A Vulgar Proof in Elizabethan English means a common experience. All the objects in the show are filled with the gestures of making, masking and revealing. We, as the audience, feel familiarity— even in the strangest moments. The work ignites a conversation with eccentric abstraction, feminism, the performative and the informel, while occupying a new space. These paintings and sculptures are psychologically charged vestiges of personal narratives and painting tricks that create a visceral empathy where the tension between object, narrative, and illusion come together in a cohesive, yet mysterious experience for Street?s audience.
April Street lives and works in Los Angeles. She studied traditional bronze casting in central Italy and at The School of the Art Institute of Chicago. Recent exhibitions have been at Emerson Dorsch in Miami FL, Rosamund Felsen Gallery in Santa Monica and Carter & Citizen in Los Angeles CA. She was chosen last year by Julie Joyce, Curator of Contemporary Art at the Santa Barbara Museum of Art for Baker's Dozen, Los Angeles Survey art exhibition at the Torrance Art Museum, and she received an NEA Project Grant for her video collaboration, Imaging Appalachia. Selected Press includes reviews and articles in Art Forum, Art in America, the Huffington Post, Cultured Magazine and LA Weekly.
Recent Press:
Los Angeles Times- review- David Pagel. January 23, 2014 http://www.latimes.com/entertainment/arts/culture/la-art-review-april-street-a-vulgar-proof-at-carter-citizen
San Francisco Arts Quarterly- review- Gladys-Katherina Hernando. http://www.sfaqonline.com/2014/01/sfaq-review-a-vulgar-proof-solo-exhibition-by-april-street-at-carter-citizen-los-angeles/
Artillery Review- by Carol Cheh http://artillerymag.com/april-street/
Art In America-review by Danielle Sommer. December 2012 print issue. http://www.artinamericamagazine.com/reviews/april-street/
Art Forum-critics pick by Annie Buckley http://artforum.com/picks/section=la&mode=past#picks34603
LA Weekly-5 Artsy Things to do by Catherine Wagley- 1. Intimacy Issues http://blogs.laweekly.com/arts/2012/09/carter_citizen_jancar_gallery.php
Huffington Post- Art and the Feminine Mystique: this artweek October 1 2012- by Bill Bush http://www.huffingtonpost.com/bill-bush/this-artweekla-october-1_b_1936567.html
LA Weekly- quoted- by Catherine Wagley-http://www.laweekly.com/2012-10-04/art-books/paul-schimmel-moca-destroy-the-picture/
Artweek.LA- weekly pick- by Bill Bush http://artweek.la/issue/october-1-2012/article/april-street-portraits-and-ropes
Fabrik Magazine- LA Emergent- Caitlin Moore, Matthew Gardocki. 2013. http://fabrik.la/april-street/
The Miami Rail http://miamirail.org/reviews/catherine-czackiapril-street/
past exhibitions:
-----October 16-November 16 2013. Catherine Czacki / April Street, Emerson Dorsch Gallery Miami FL----- Opening reception 6-9pm-October 13, 2013
-----October 19 2013-November 23, 2013. Heroes. John Byam, Patricia Fernandez, Joanne Greenbaum, Julia Haft-Candell, David Ireland, Kelly Kleinschrodt, David McDonald, Jessica Rath, Steve Roden, April Street, Bill Walton, Philadelphia Wirema, Bari Zipperstein. Group show-Curated by David Mcdonald and Whitney Carter. Carter & Citizen Los Angeles CA-Opening reception: 6-9pm-October 19, 2013
-----July 17 2013 7-9pm Managing Modality curated by Jonathaton Hornedo. Post 1904 E. 7th Place Los Angeles CA
-----May 17, 2013 - June 8, 2013 Object implied Emerson Dorcsh Gallery 151 NW 24th Street, Miami, FL 33127
Kris Chatterson/Dave Hardy /Ryan Roa/April Street/ Robert Thiele/ Odalis Valdivieso
Opening reception May 17, 2013, 6 p.m. - 9 p.m.
-----May 25th-June 22, 2013 A point of view of a Cat Animatron Los Angeles CA
-----February 15-May 31 2013 Millenial Abstraction Group Exhibition curated by Patricia Watts. Marin Community Foundation, Novato, CA
-----January 12- February 23 2013 Forms of Abstraction. Irvine Fine Art Center. Irvine CA 92604
-----September 8, 2012-October 20, 2012. April Street. Portraits and Ropes.Carter & Citizen. Los Angeles, CA 9003
-----July 21 2012-September 1 2012. Bakers Dozen Los Angeles Survey 12 LA Artists selected by 12 LA Curators Torrance Museum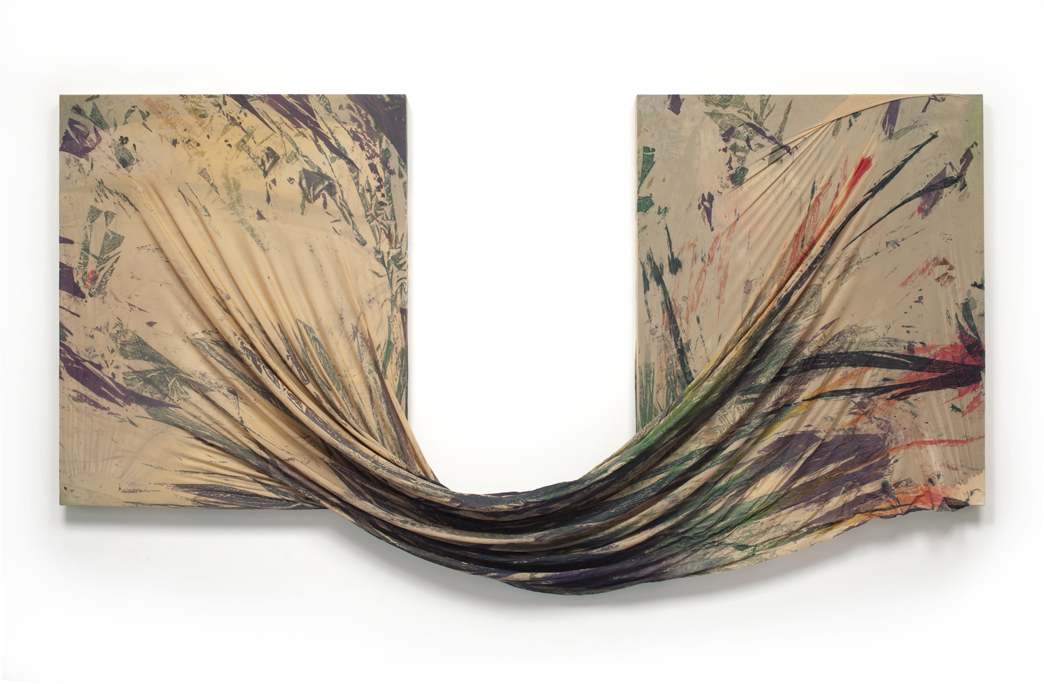 Carter & Citizen is proud to present April Street Portraits and Ropes, the artist's first solo exhibition with the gallery. A reception for the artist will take place on September 8, 2012 from 6 pm until 9 pm. The exhibition runs through October 13, 2012.

The paintings included in Portraits and Ropes are a fictional familial construct that overlap, rebel against, and conform to their relatives and their imagined lovers through body language, compositions of movement, and color deposits that create a "generational aesthetic". The gravitational configurations evoke ideas of skin and duration, posturing and adaptation, packaging and labor, as well as action paintings' relationship to feminism. Street's palette is plucked from fantasy art and impressionist landscapes combined with skin mimicking textiles as the paintings drape and extend onto the walls of the gallery via corsage pins and copper tacks. Some paintings within the exhibition are spun into ropes ending in cast bronze knots where they meet the wall, These spun paintings act as strands of DNA that would unravel without the weight of their fixtures.

The paintings begin with a performative act we are not allowed to witness, wherein the artist wraps herself in hosiery materials to enact a series of body positions (recorded while sleeping) into pools of paint on canvas. The impression made by this act is rinsed away while the paint is still wet, where then the memory of the gesture is painstakingly repainted by the artist. The result is the intuitive stippling of her ideal fantasy of what happened in the original. Street's labor and fantasy life then create yet another fiction when it is physically covered. The hosiery, once used as the brush in the beginning of her process, is now the subject in control of its own history. Hidden underneath the folds of hosiery is an image that Street only teases us with knowing fully. These veils of fabric become their sole identity inside the gallery space and outside the protective world of the studio. What begins with the artist's private performances ends with the psychological construction of public image.

The work within the exhibition addresses adaptation of an intimate activity placed in a public space. Posturing and social awkwardness, sexual identity and the hiding of labor to feed particular social longings are all tied up in the painting's reactions to each other. Street alludes to the shifting relationships between objects of action, while acknowledging the identity shifts and role-play that occur when one takes their art from private to public. This tension between object, narrative, and illusion is a constant in Portraits and Ropes. The paintings reverse and reconnect their roles in their ultimate incarnation for the gallery, as a community of gestures, packaged for their public moment.
April Street studied at The Art Institute of Chicago and in central Italy learning traditional bronze casting. She received an NEA project grant for her video collaboration, Imaging Appalachia. Her paintings were the focus of a recent solo exhibition at Rosamund Felsen Gallery in Santa Monica, CA and she was chosen by Julie Joyce, Curator of Contemporary Art at the Santa Barbara Museum of Art, as one of the 13 LA Artists for the 2012 Baker's Dozen IV Exhibition at the Torrance Art Museum. She currently lives and works in Los Angeles.

Carter & Citizen 2648 La Cienega Ave. Los Angeles CA 90034
Gallery hours: Tuesday – Saturday 11am – 6pm and by appointment
213.359.2504
Whitney Carter director
http://carterandcitizen.com/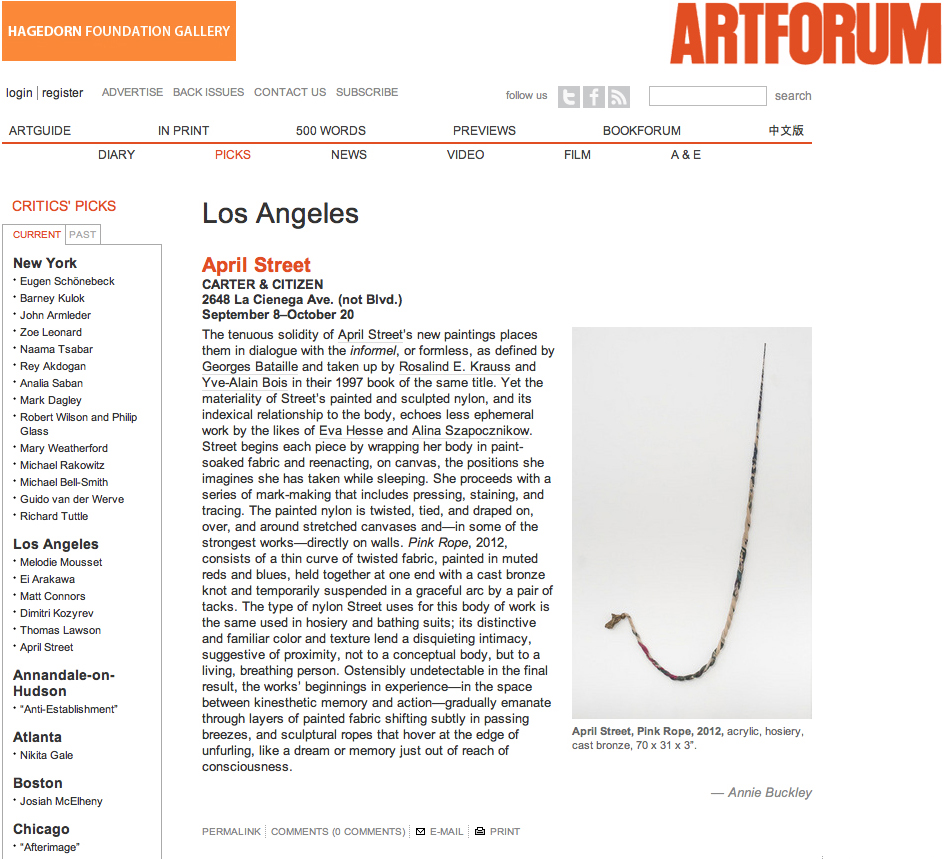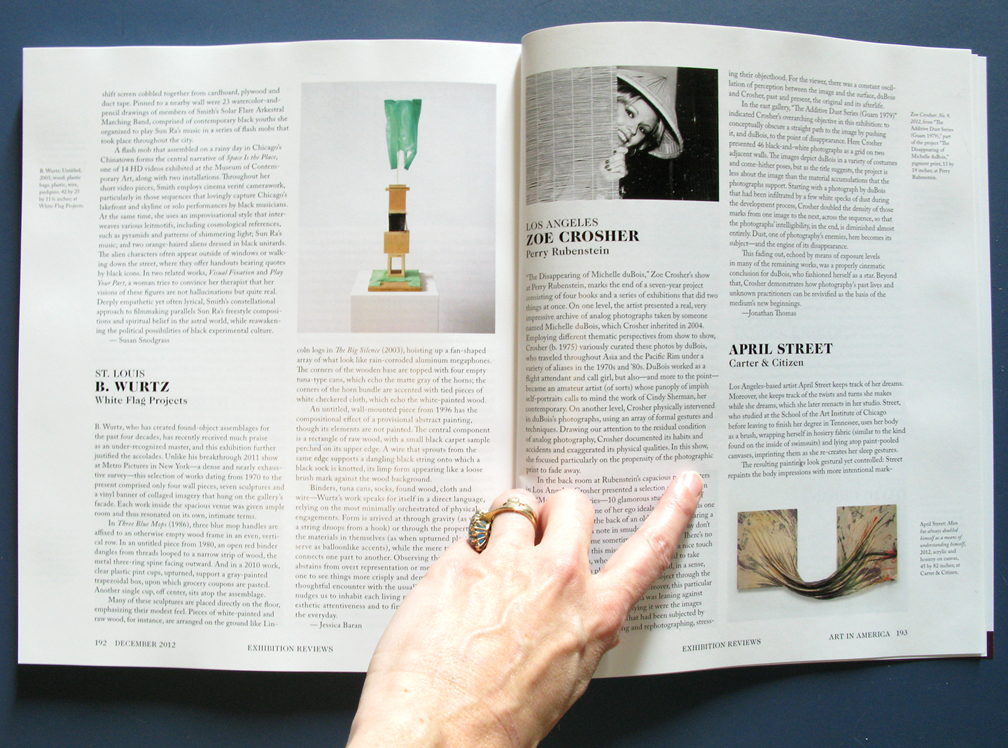 Feb 12 - Mar 12. 2011
Patrick Nickell & April Street. Rosamund Felsen Gallery. Santa Monica. CA. Opening reception Feb. 12. 2011. 5-7pm.

With her own physical movements realized and indexed in paint, April Street makes works that evoke the surrealist automatism of a dreamscape. At the same time, they represent a spontaneous outpouring of social, historical and personal constructions of romanticized subjects and subject matter. Using canvases often imprinted with pattern and natural imagery, and utilizing such varied applications and techniques as paint spills, illusionistic detailing, prismatic color and floral motifs, Street has largely relinquished the paintbrush. Instead, she utilizes her own body as well as worn bed sheets to move paint around the canvas. Displaying a skillful lightness of touch, Who threw the sunset at Me culminates as a series of beautiful, highly mysterious and highly allusive paintings, rich in layered meaning.
Looking at Street's watercolor paintings is like being in the Fantastic Voyage, where you have become tiny and are traveling through the plasma, lymph and transcellular fluids. Membranes give way to sheaths that glimmer translucent fibers. Space opens up to reveal the plains that are journeyed across to reach filaments and fibers. Color and shape are contained in continents of detail while sheer curtains of color stretch into space. There is a memory within the images that is not captured with words, but is with a visceral response. Tracey Harnish. LA Art Diary. 2011
NY Arts Magazine January/February 2009 issue wrote about my paintings in the article: Shape-Shifting by R. B. Saul.
.http://www.nyartsmagazine.com/index.php?option=com_content&task=view&id=376731&Itemid=757
April Street's paintings bubble over like an interpretation of lyrics, made richer by years of poetic flexibility and lubricous perceptions. Her paintings embed watercolor bloom effects that appear to be dredged through gauzy light, reminiscent of a 70s album cover, fashioned by a transported courtly Fleming on acid. These trippy surfaces connote a cut-and-paste methodology, and yet, are an intricate record of her impressions. By simultaneously combining macro and micro perspectives, Street's psychedelic organizations become an elastic maze of diverse configurations. These configurations form and disinform her imaginative landscapes through her codependent patchworks and shape-shifting narratives.
Even as her colors boldly depart from naturalism, Street's illusory plots and plights consistently concoct objects tangible and figurative, yet heterarchical—not hierarchal—making them irreducible to abstraction. Comprised of intimations, mysterious personal allusions, mirages, and movements, each painting is drizzled with familiarity and mystery, unfolding and dissolving over time, slipping through the grasps of rational comprehension. Within the convergence of figure and space, fact, and interpretation, Street takes the peculiarities of paint and boils it all down to an intimate flurry, a whirlpool of hypnotic defects, willing to ambulate freely through unrelated perspectives.
-----April 7 - May 12, 2007 The Dominant Planets Of
High Energy Constructs in Chinatown Los Angeles presents The Dominant Planets Of - a group exhibition of paintings and drawings by Searcy Benson, Kadar Brock, Kent Hammond, Paola Ochoa, and April Street. The Dominant Planets Of brings together five emerging artists who work with extraordinary freedom, mixing ideology and tradition, as well as engaging with archetypal and personal dialogues of social, political, and art historical concern.
"April Street's paintings thrive on layering, a single painting offers an eclectic set of references including Arturo Herrera,... Helen Frankenthaler, Crisp lines of bulbous cartoon characters become semi transparent abstractions. The repetitious whipping of vines reference digital responces to the stylized flora of Art Nouveau. This Lush mania is placed over a ground of soft stains."- Christopher Russell, Artillery Magazine,vol 1 no. b summer 2007